ACROSS THE EQUATOR1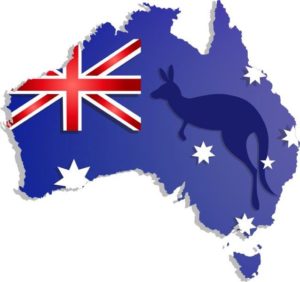 Although Australia is the smallest continent in the world (however, not far behind Europe, which is the second smallest), it boasts2 some unique and spectacular natural as well as cultural attractions. It lies in the southern hemisphere and thanks to its isolation from the rest of the world it is home to some very special and iconic varieties of mammals, birds, reptiles3 and plants. These definitely belong among the mustsees and are as important as any other favourite tourist destination.
Apart from its iconic fauna, tourists travel to this remote4 island to admire its amazing coral reefs, wild rain forests, red-earthed national parks, awesome5 beaches (There are over 10,000 of them!) and thrilling cities. And it´s worth the travel, indeed!
TASK ONE: Can you name at least five animals that are native to Australia and live only here?
THE SYDNEY OPERA HOUSE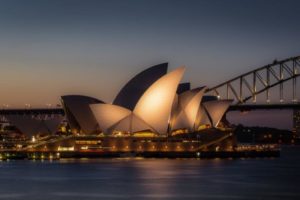 One of the most photographed buildings in the world that anyone can surely recognize6 is the Sydney Opera House. Located in the Sydney Harbour, it overlooks the seawater and its iconic shape makes it one of the most prominent architectural masterpieces7 of the 20th century!
Sydney's Opera has much more to offer than an extraordinary exterior (designed by a Danish architect Jørn Utzon), thanks to which it was added to the UNESCO's World Heritage List in 2007. Visitors can enjoy a number of performances of multiple genres (cabaret, classical music, ballet, and of course – opera),dine at one of the fancy restaurants or take a tour of this unusual building with its theatres, studios, a concert hall, exhibition rooms and a cinema. And finally, one tip for photography enthusiasts – one of the best sites to take photos of the Opera House is Mrs. Macquarie's Chair in the Royal Botanic Gardens.
TASK TWO: What does the shape of the Opera House represent?
THE ULURU MOUNTAIN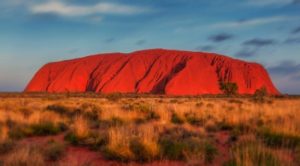 Another photographic icon of Australia, and its natural landmark, is the magnificent sandstone monolith of Uluru (the Aboriginal and official name) also known as Ayers Rock in central Australia. Photographers try to capture8 its changing colours during different parts of the day (most often its glowing red shade at dawn9 and sunset) and different seasons. And similarly, as well as the Sydney Opera, it is listed as a UNESCO World Heritage Site. The mountain rises 348 m above ground; however, most of its mass (up to several kilometres of depth, although no-one knows exactly how much) is hidden underground. Uluru is of great cultural significance for the traditional inhabitants of the area, who also lead walking tours around the mountain and tell visitors stories of it.
THE GREAT BARRIER REEF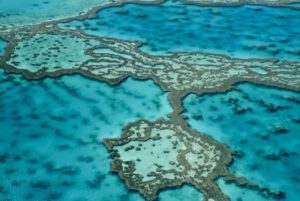 The largest structure in the world created by living organisms, one of the seven wonders of the natural world, a UNESCO world heritage-listed site – that's Australia's Great Barrier Reef. Composed of over 2,900 individual reefs it stretches10 for over 2,600 kilometres and contains over 900 islands. Visitors come here to admire the world's largest collection of coral reefs; with 400 types of coral, 1,500 species of fish and 4,000 types of molluscs11. To get an idea of its enormous area, its size can be roughly compared to the combined area of the United Kingdom, Holland and Switzerland. If you are not much into diving and snorkelling (which are of course the best ways of exploring its beauty), you may enjoy the crystal-clear turquoise12 waters with their colourful marine life from underwater viewing stations and glass bottom boats.
TASK THREE: What do you think are the greatest threats to the Great Barrier Reef?
Šárka Valášková
Vocabulary:1 rovník; 2 chváliť sa – chlubit se; 3 plazy – plazi; 4 vzdialený – vzdálený; 5 úchvatný; 6 poznať – poznat; 7 majstrovské dielo – mistrovské dílo; 8 zachytiť – zachytit; 9 svitanie – svítání; 10 tiahnuť sa – táhnout se; 11 mäkkýše – měkkýši; 12 tyrkysový
KEYS:
TASK ONE: kangaroo, koala, echidna, dingo, platypus
TASK TWO: a series of white sailshaped shells
TASK THREE: Climate change (warmer ocean temperatures put stress oncoral and lead to coral bleaching), pesticide pollution, too much or badly managed tourism